The HRH Wolf Pack Rides Route 66 start to finish
8 states, 2400 miles, Epic Biker Adventure!
We are now ready to launch the biggest epic biker adventure to date, to ride 8 states of the US in one "wolf pack" covering Illinois, Missouri, Kansas, Oklahoma, Texas, New Mexico, Arizona & California.
The ride itself will take in some amazing scenery, places and very special HRH parties as we cruise the full 2400 miles on the US mother road, Route 66. We have planned this meticulously, the journey starts in Chicago, where we meet up , grab the bikes and then make the journey. The packages on sale have various options depending if you want to have your own bike and own room or two on a bike in the same room or even 2 bikes one room, hell, we even have a few trikes. There will be an HRH support wagon which will take luggage, do the radio broadcasts worldwide when we hit each destination, not to mention film it for a new Amazon Documentary which will go out late 2023.
The Wolf Pack has 100 places only, 100 bikes available, however with so many HRH loyal, family, industry n friends wanting to make this epic crossing, we will also be offering an "HRH Hangaround" pack where we sort the accommodation and parties for you, but you grab a hire car n tag along point to point. Likewise we will be having quite a special show when we finish in West Hollywood & if you fancy staying on for a few days in Los Angeles then we have arranged that too.
The whole route will take 15 days and all prices for riders include bike hire, helmets and 3 / 4 star accommodation for 14 nights, HRH embroidered denim Cut, HRH Vest not to mention all the HRH shenanigans, shows & parties that will be going on at each stop. We start in Chicago 21st Sep 2023, we finish @ Santa Monica pier on 4th October with the farewell party that night and general departure 5th October. However if you want to stay on in la, we can do that too.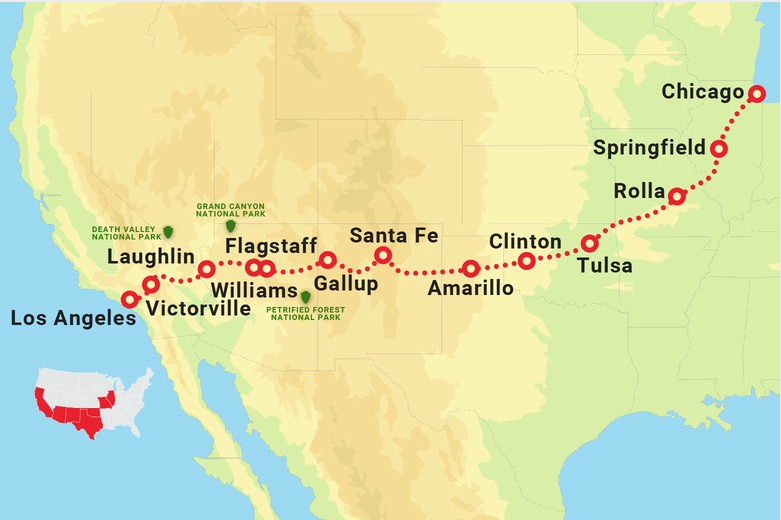 ---